MUSIQUE ACCORDEON
presents
Cafe Music of Paris
with
David DiGiuseppe—accordion
Robbie Link—bass
Beverly Botsford—percussion
View video sampler of Music Accordéon
Sit street side for a concert of French music. Musique Accordéon presents music from the cabarets of Montmartre through the musettes of Paris to the songs of famed singer Edith Piaf.­­ Featuring accordionist David DiGiuseppe, bassist Robbie Link, and Beverly Botsford on percussion.
Special Presentation
The Musette–A Musical Journey
In the early 1800's a wave of emigrants from rural Auvergne flowed into Paris. With them came their bagpipe-type instrument called the musette. Over the next 150 years, the term musette gained a new identity, with musical influences like the waltz, polka, and American jazz; social influences derived from the Parisian underworld; and most importantly, the accordion. In this fun and informative concert, DiGiuseppe and crew trace this musical development from the early Auvergnat bagpipe music through the swing musette of Paris.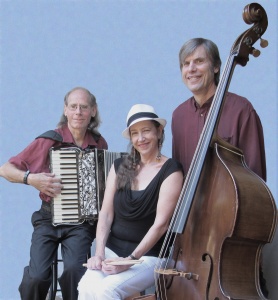 DAVID DIGIUSEPPE is a multi–faceted accordionist who has been performing professionally since 1978. Appearing as a soloist and with numerous groups, DiGiuseppe is known for his fiery and emotive playing, and is equally at home performing Irish tunes in a pub, French musettes in a cabaret, contra or Cajun music for a dance, or in the intimate setting of a concert hall.
ROBBIE LINK is a performer and teacher on the double bass, cello, electric bass, viola da gamba, and violon. Link performs and records with many period instrument, chamber, jazz, and folk music ensembles and enjoys performing everything from Baroque to Bluegrass.
BEVERLY BOTSFORD is a cross-cultural percussionist and educator, blending music, movement, and spoken word in solo and ensemble presentations. Embracing drumming traditions and inspirations of Africa, Cuba, South America and her native North Carolina, she weaves colorful rhythmic tapestries with her infinite array of collected and homemade instruments.