FootLoose is a high-energy and fun contra dance band. The FootLoose sound draws from Celtic, Quebecois, southern old time, jazz and classical music influences. Performing for New England-style contra dances and in concert, FootLoose has played at numerous contra dance festivals and week-long dance camps throughout the United States.
Although the primary purpose of FootLoose is to rock the socks off of contra dancers, the band also performs English country dance, tango, waltz, hambo, schottische, zwiefacher, and Scottish country dance music.
FootLoose is Ted Ehrhard playing fiddle, David DiGiuseppe on accordion, Pete Campbell on piano, and percussionist Jim Roberts.
Discography
Trip to the Moon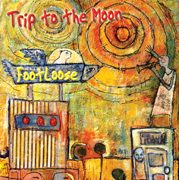 A Rockin' Collection
of Trad Inspired Tunes
Trip to the Moon, the newest FootLoose CD, features a contemporary take on traditionally-inspired tunes. In typical FootLoose style, this recording offers stellar, high-energy performances showcasing tight, sophisticated arrangements and solid improvisations in a wide variety of styles, tempos and textures.
Drawing on a diverse repertoire from traditional Irish, Southern old time, original and other styles, the recording is heavily influenced by today's contra dance aesthetic. But it doesn't stop there! Also featured is Rex McGee's virtuosi playing on fiddle and banjo, a new and luscious tango waltz composed by David DiGiuseppe, Dean Herington's wailing clarinet leading a medley of Macedonian tunes, Jim Robert's ever-creative and powerful drum-laden grooves, plus a few surprises. And it's all held together by Pete Campbell's sultry piano playing.
A lively world fusion of new and old, Trip to the Moon is guaranteed to keep those feet tapping.
Bundle and Go/Palamara/Paddy Fahy's Reel
Carpathian Tune/Lowdown Hoedown/Beth Cohen's
Miller's Maggot/The Caves of Kesh/Forgotten Memories
A Bicada do Tico Tico
Maid Behind the Barrel/Copper Serpent
Le Vin
Trip to the Moon/Swing the Devil Below/Dr.Who Returns
Ragtime Annie
Johnny Court the Widow/Liza Jane/Sandy Boys
Becky's Lesnoto #2/Cocek
Fried's Triumph
Celia's Last Waltz
Rex McGee
fiddle, banjo
David DiGiuseppe
accordion, cittern
Dean Herington
clarinet, soprano sax
Pete Campbell
piano, bass
Jim Roberts
percussion
Everdance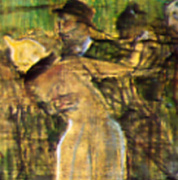 A Collection of Waltzes
This all-waltz CD features a mix of traditional French Canadian, Scottish, Italian, and Cajun waltzes, Parisian musettes and original compositions.
A delightfully varied blend of tempos and textures makes this recording perfect for twirling around the dance hall or listening in your own living room.
Winter's Long Road
Dean's 50th Birthday/Ted's Lucky Square
Archibald McDonald of Keppoch
Hommage à Philippe Bruneau/La Valse d'Hiver
Incomprise
Everdance
Candles in the Darks
Port Arthur Waltz
Trois Tour de Piste
Valse des Petites Jeunes Filles
The Rosebud of Allenvale
La Napoletana
La Valse Soleil Couche
Neil Gow's Lament
Michael Barney Pilgrim
fiddle
David DiGiuseppe
accordion, mandolin
Dean Herington
clarinet
Pete Campbell
piano
Steppin' Out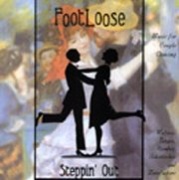 Music for Couples Dancing
This CD features a wonderful assortment of beautifully arranged music for couple dancing. Includes waltzes, tangos, hambos, schottisches and zwiefachers.
Polska fran Rattvik (Hambo)
Tango Baja Chaxra (Tango)
Wintergrun (Zwiefacher)
Caminos de Galicia (Waltz)
Olands Tos (Schottische)
Tango Caliente (Tango)
One Last Time (Waltz)
Hargaluten (Hambo)
Los Novios (Tango)
Bayrischer Bauer (Zwiefacher)
Planet Love (Waltz)
South of Andromeda (Waltz)
Pentis Schottis (Schottische)
Foggy Nights (Waltz)
Ted Ehrhard
fiddle, banjo
David DiGiuseppe
accordion, mandolin
Dean Herington
clarinet, piano
Pete Campbell
piano, bass
Jim Roberts
percussion
FootLoose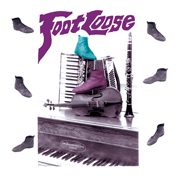 Contra Dance Inspired Music
The FootLoose debut release features original tunes, unusual tunes, and even a few chestnuts from the traditional New England contra dance repertoire.
Skillfully arranged and performed, high in spirit and energy, the quartet plays reels, jigs, waltzes and even a tango on fiddle, accordion, clarinet, piano, bass, mandolin, bouzouki, guitar, washboard, and drums
A Finnish Polka/Morpeth Lasses
Wild One/Fair Jenny's Jig
Tango Caliente
Jumpin' at the Gym/Saratoga Hornpipe
Inyo Barn Dance Waltz
Minor Details/Dark Nights
Mr. Fiddle/Rock-a-Bye Baby
It's in D/Dr. Campbell/Cape Breton Jig
Juliann Johnson/Nancy Ann
Elizabeth's Reel/La Grande Chaine/The Scholar
Caminos de Galicia
Ted Ehrhard
fiddle
David DiGiuseppe
accordion, mandolin, bouzouki, washboard
Dean Herington
clarinet
Pete Campbell
piano, bass
Jim Roberts
percussion
Special Guests:
Joe Newberry
banjo