"They played true 'world music' even before
there was a term for it." (Field Recording Collective)
High-Energy & Raucous Acoustic Swamp Music

If a band is defined more by its sounds than by its songs, then the Nee Ningy Band is in a class by itself. Most old-time or blues bands, while unique in their own way, sound at least a little like every other old-time or blues band. While the musical influences on this band are easy to distinguish, Nee Ningy is a band which just doesn't sound like anyone else.
Nee Ningy presents a blend of American and European trad tunes from blues, southern old time, and Cajun to Swedish walking music, Scottish reels, and the French bourrée.
Chris Turner—harmonica, bagpipes & vocals
Rachel Maloney—fiddle & vocals
Ted Porter—mandolin & vocals
David DiGiuseppe—accordion & vocals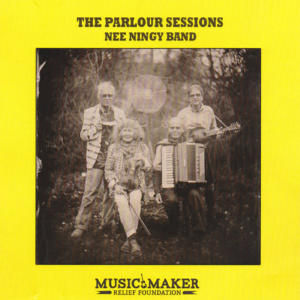 The newest Nee Ningy release, The Parlour Sessions, is an all-instrumental recording of American and European traditional tunes
from southern old time and Cajun to Swedish walking music, Scottish reels, and French bourrées.
This collection of tunes was recorded in two live sessions played in a living room with great natural acoustics. Musicians include
Chris Turner on harmonica and bagpipes, Rachel Maloney on fiddle, Ted Porter on mandolin, banjo mandolin, and bagpipes,
and David DiGiuseppe on accordion and Irish cittern.
The Nee Ningy History
Between 1978 and 1981 the Nee Ningy Band performed their strange, sweet, surreal music on the folk, college, and festival circuit along an axis between New England and North Carolina. Time magazine (August 1979) even cited them as exemplifying the best of American street music. They played authoritatively in an astonishing variety of traditions: Cajun, Irish, Appalachian, African, English, French, calypso, Tex-Mex, classical, pop, and, of course, blues—playing true "world music" even before there was a term for it.
One of the most amazing aspects of their sound was this: no guitar! But the variety of other instruments they played is mind boggling—from harmonicas of all kinds to mandolin, fiddle, washtub bass, flute, kazoo, mandola, pennywhistle, slide whistle, siren, nose flute, cornetto, shahnai, raita, and accordion. And that doesn't include percussion. Though the musicians might change from gig to gig, the core members were Hohner All-Europe Harmonica Champion Chris Turner; mandolinist and multi-instrumentalist Ted Porter; old-time/Irish fiddler Rachel Maloney; washtub bassist and percussionist Rob VanVeld (and later, Robbie Phillips); and master bodhran player Mance Grady.
The Nee Ningy Band developed their own unique way of getting and holding an audience's attention. Seldom would you hear an announcement: "Ladies and gentlemen, please welcome the Nee Ningy Band." Instead, the lights would dim and from somewhere outside could be heard the distant whine of bagpipes. It would suddenly dawn on you that something odd was happening. A few moments later, the doors would burst open with a boom, and in would parade the Nee Ningy Band, single file, playing the loudest, noisiest combination of instruments imaginable: bagpipes, bombards, serpentines, drums, and whistles. After winding among the tables, they would march to the stage, and just before launching into their first number, they would scream "Neeeeee NINGEEEE!' as if it were a war cry. The strategy was effective in putting any rowdy drunks or potential hecklers on notice that they were seriously outgunned.
Nor was the effect simply auditory. The band was a visual delight as well. They could be expected to wear Harlequin pants, striped bell bottoms, brightly colored balloon-sleeved shirts, tuxedo coats, assorted castoffs from some theater wardrobe department, and odd head wear. In one of their publicity photos, percussionist Mance Grady is wearing a Viking helmet.
Perhaps the most inspiring part of the Nee Ningy Band was their ability to communicate the sheer fun in the music they performed. Their performances were energetic, even hair-raising. You kept expecting the intensity to slacken, but it never did. In a sense, they were like musical tightrope walkers, able to fill an audience with an expectation that at any moment they might fall. Their music was visceral. You heard it in the gut as much as in the ear, and they achieved a level of volume rare for acoustic musicians. They could be loud. And they reveled in it.
But their music appealed to the mind as well. They drew with astonishing authority from a wide variety of traditions, but they did it with an amazing lack of self-consciousness or pretense. The more familiar you were with world music, the more you could appreciate the Nee Ningy Band. Consider the styles represented by the songs on their various discs: Cajun, Irish, Appala­chian, African, English, French, calypso, Tex-Mex, classical, pop, and, of course, blues—from Renaissance courts to '50s R&B.
They recorded one full-length LP, Get Nung!, on the famed Biograph blues label, released in 1981. They also produced three promotional EPs. Chris Turner also recorded and privately issued a solo harmonica album at that time, which included studio versions of harmonica solos that he performed in concert with the band.
Finally, a note about how the band acquired its mysterious name. It seems they were per­forming some Irish and Appalachian tunes somewhere when an older gentleman approached them. He said something to this effect: "All that fiddle music sounds the same­ to me," and holding his arms up as if to play air-fiddle, he continued, "—it all sounds like 'nee-ningy nee-ningy nee-ningy nee-ningy.'"
The name stuck.
Or as the band itself might say: Neeee NINGEEEEE!
– Bob Hudson (Field Recording Collective)
In 2015, Nee Ningy reformed featuring Chris Turner, Rachel Maloney, Ted Porter, and David DiGiuseppe, and released a new all-instrumental CD, The Parlour Sessions.