Programs for Seniors
"Our folks could not stop talking about how enjoyable your program was. They loved every note and the narration you offered. I believe you could have played for another hour and they would still be in your palm! …It will be a memorable event for a long time. I will look forward to a return visit!"
J. Patrick Murphy
Organist-Choirmaster
First Presbyterian Church, Burlington, NC
David DiGiuseppe offers numerous performance programs for seniors, including:
ACCORDION MUSIC FROM AROUND THE WORLD
Treat residents to a world tour, without leaving their seats. DiGiuseppe presents a concert of music traveling from France, Italy, Ireland and other European countries, continuing on to South America, and finally ending up home in the U.S. In this lively performance, David introduces each song with an amusing anecdote about its history or relevance. This show has been a hit at many retirement communities.
AN AFTERNOON IN PARIS
Sit "street side" listening to the sounds of French accordion music. Accordionist David DiGiuseppe shares his music from the cabarets of Montmartre through the musettes of Paris to the songs of famed singer Edif Piaf. Ideal for a French themed event as background music or a listening concert.
MUSIC OF ITALY
A fun program of Italian accordion music ideal for an Italian themed event.
THE OLD NORTH STATE—North Carolina History in Song and Story
A fun history lesson with a musical twist. David puts on his singer and storyteller cap for this entertaining and informative presentation. David explores the history of North Carolina presenting songs and stories from this state's earliest days through the 20th century. DiGiuseppe plays numerous instruments including the banjo, Appalachian dulcimer, concertina, and guitar.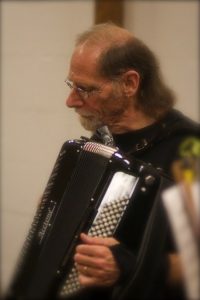 Reviews & Comments
David came to our assisted living community on Friday, May 24th. Our residents and staff LOVED him! Not only is David friendly and knowledgeable, but he is incredibly talented. Forget what you think about accordions! We are convinced that the accordion may be the COOLEST instrument on the planet. David played songs reminiscent of old Paris and more. Our residents particularly enjoyed his Waltz tunes from South America. One of our memory care unit residents said to him, "Your music could cure a cripple, and I would know, because I'm a cripple!" Many of our residents couldn't stop their feet from tapping throughout his hour of playing and a handful of them danced up a storm. We all enjoyed his brief description of the songs before he played them and I was impressed by his great comfort in chatting with, and engaging, our folks with more progressed dementia. Cambridge Hills in Pittsboro gives David two HUGE thumbs up!
Cambridge Hills, Pittsboro, NC
They really enjoyed you last time and have asked when is he coming back.
Shads Landing Charlotte NC
We here at Willow Grove enjoyed your performance!
Willow Groves, Mathews, NC
Thanks again for the entertaining performance yesterday, you made it lots of fun and I know the members enjoyed it.
The Cedars, Chapel Hill, NC
Hi David, I was unable to be at your performance on Friday but according to the residents you were awesome!
Carmel Place, Charlotte, NC